Teeth Whitening – #1 Expert Meridian Cosmetic Dentist
Are you looking for a brighter, whiter smile? You're probably a candidate for teeth whitening! Are your teeth currently yellow, brown, or orange? If you want to enhance your smile in less than an hour, our teeth whitening service in Meridian may be the perfect option for you!
However, not all whitening options work for all types of staining. Our Meridian dental team may recommend alternative teeth whitening methods or other cosmetic dentistry treatments before whitening to see your best results.
Looking for a New Smile With Teeth Whitening?
You should love your smile! No matter what you have coming up, be it a special event, family photos, or that vacation you've been planning all year, teeth whitening can give you the confidence to be your best self!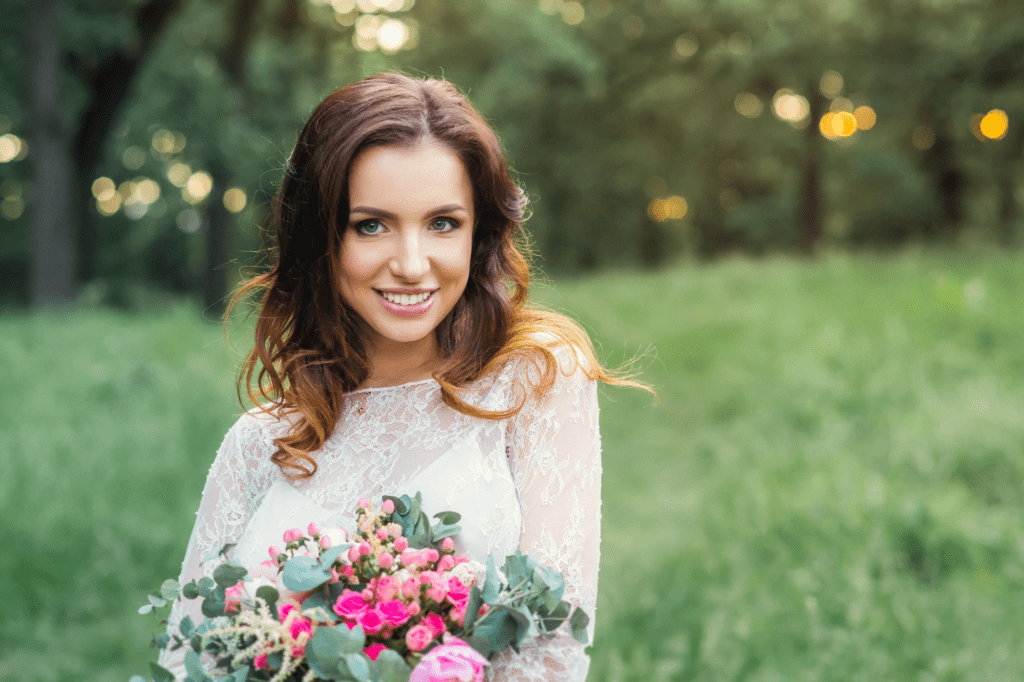 Meridian Teeth Whitening
Your smile is the first thing people see, and you deserve to make an impression you're proud of! If you wish you had whiter teeth and a more vibrant smile, it's time to make a change. Although there is no shortage of whitening products on the market, speaking with your Meridian cosmetic dentist about teeth whitening is the best way to get your most vibrant, healthiest smile. Our team will help you get the vibrant smile you need to have the self-confidence you deserve.
What Causes Tooth Discoloration?
Tooth discoloration is a natural part of aging. However, some things can speed up or contribute to tooth discoloration. Some common causes of discoloration are: 
Food and drinks

: drinks like coffee and red wine often contribute to the discoloration of teeth because the color pigments attach themselves to the surface of the teeth. 

Tobacco

: tobacco users may notice more stains on their teeth because of the tar and nicotine. 

Medication

: antihistamines, blood pressure medication, antibiotics, and chemotherapy can all contribute to the discoloration of teeth. 

Age

: As the tooth's enamel wears down, the darker dentin underneath will begin to show. 
Not all tooth discoloration can be treated in the same way. Working with our Riverbend Family Dental team will help ensure you get the desired results. 
Why Should I Get My Teeth Whitening Done Professionally?
Professional teeth whitening delivers the result you're seeking. Not all whitening products are created equally; over-the-counter products don't always deliver the promised results. And they can put your teeth and your health at risk with the potential of over-exposure to the chemicals.
The best way to ensure you get the desired results without risking your teeth is to talk to your dentist before committing to an over-the-counter whitening product.
Types of Teeth Whitening Available
Teeth whitening can restore confidence in your smile. At Riverbend Family Dental, we offer in-office and at-home versions of professional teeth whitening so that you can whiten your teeth safely and on your own time.
In-Office Bleaching: Riverbend Family Dental in Meridian, ID, offers the Opalescence System for in-office teeth whitening, providing patients with a safe and effective way to achieve a brighter, whiter smile. The Opalescence System uses a specially formulated gel to whiten teeth quickly and effectively, providing immediate results that last. 
Dr. Nathan Eames and Dr. Christian Bennion are both experienced dentists at Riverbend Family Dental who are trained in cosmetic dentistry's latest techniques and technologies, including teeth whitening. Patients at Riverbend Family Dental can trust Dr. Eames and Dr. Bennion to provide high-quality teeth whitening services that are safe, effective, and tailored to their unique needs.
At-Home Bleaching: Riverbend Family Dental in Meridian, ID, offers the Opalescence Go! Whitening trays as a convenient and effective way to whiten teeth at home. The Opalescence Go! Whitening trays are custom-fit to a patient's teeth and come prefilled with a specially formulated whitening gel. 
Patients can use the trays in the comfort of their homes, and the treatment typically takes just a few days to achieve noticeable results. Dr. Eames and Dr. Bennion can provide guidance and recommendations on how to use the Opalescence Go! Whitening trays safely and effectively to achieve the desired level of whitening. Patients at Riverbend Family Dental can trust their expertise to help them achieve a brighter, whiter smile with Opalescence Go! Whitening trays.
Custom Whitening Trays: Riverbend Family Dental offers custom whitening trays as an effective and convenient way for patients to whiten their teeth at home. Custom whitening trays are created by taking an impression of a patient's teeth and crafting a tray that fits snugly over them. The custom fit ensures the whitening gel is applied evenly and effectively, resulting in a brighter, more uniform smile. At Riverbend Family Dental, our experienced dental professionals can provide patients customized guidance and recommendations on using the trays safely and effectively. We also offer a range of professional-grade whitening gels for the trays, ensuring our patients achieve the best possible results. Patients can enjoy a more confident and radiant smile with custom whitening trays from Riverbend Family Dental.
How Much Does Teeth Whitening Cost?
Teeth whitening is not usually covered by dental insurance. However, we proudly offer financing options so you can still get the smile you need to take on whatever comes your way.
Teeth Whitening in Meridian, ID
If you want to whiten your teeth for a brighter, more vibrant smile, call our office today to schedule your appointment or reserve your spot online.